May 31, 2023
Viola Davis Dazzles in Tribal Eyes KB Sunglasses at the 2023 Cannes Film Festival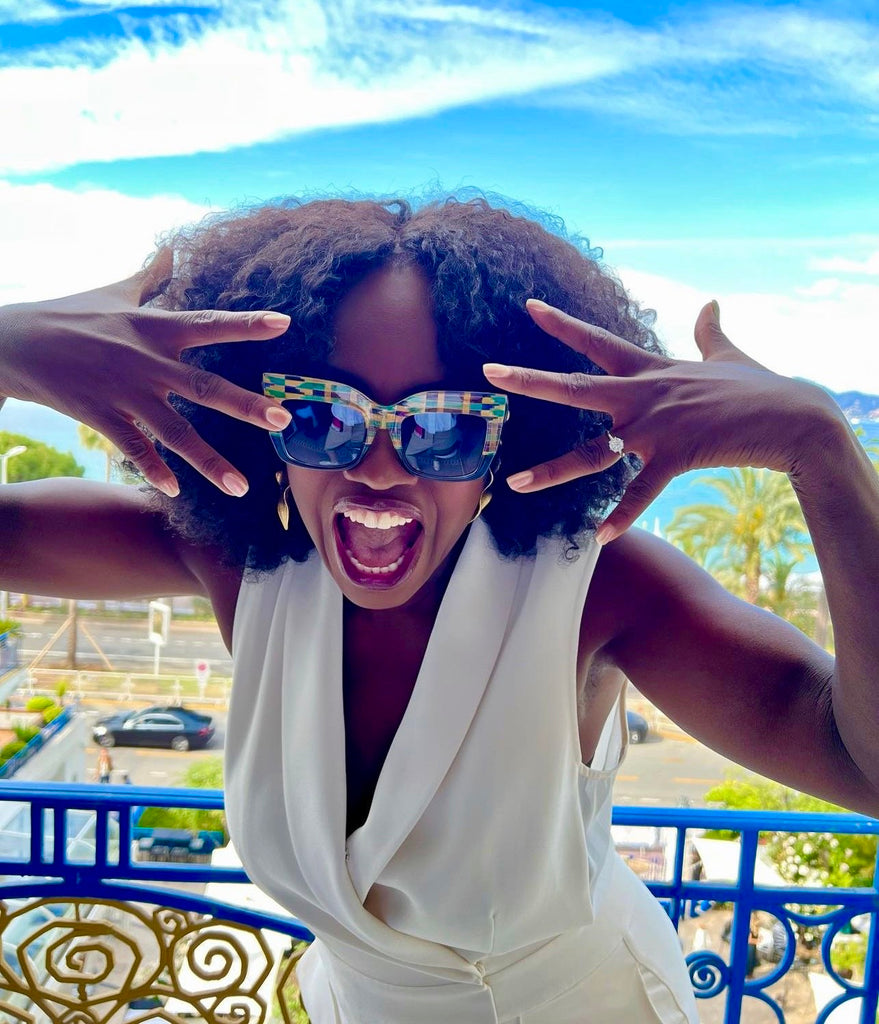 Hey Tribe. We've got something exciting to share with you today. It's not just any story – it's a star-studded tale of glamour, style, and our very own KB Sunglasses making a show-stopping appearance at the Cannes Film Festival 2023. So sit back, relax, and join us on this sun-soaked journey. 
You probably know by now that at Tribal Eyes, we're about more than just sunglasses. We're a tribe, a community, and most importantly, we're about creating connections through style. There's no better example of this than when the inimitable Viola Davis stepped out onto the Cannes red carpet, stunning the world with her Tribal Eyes KB Sunglasses.
Davis, a titan of the silver screen, needs no introduction. But it's always worth reminding ourselves of the talent, poise, and charisma that she brings to every role she plays. At Cannes, she graced the stage not just as an actress, but as a trendsetter, making a statement with our KB Sunglasses. With their unique design and unparalleled comfort, they were the perfect accessory for the sunny French Riviera, complementing her look in a way that was both glamorous and effortlessly cool. 
However, this wasn't a solo effort. Behind the scenes was Elizabeth Stewart, a renowned red carpet-stylist and a valuable member of our tribe. She masterfully crafted Viola's ensemble, selecting our KB Sunglasses as the icing on the cake. We can't thank Elizabeth enough for showcasing our brand on one of the world's biggest stages. Her work truly embodies our belief in community and collaboration, and we're incredibly grateful for her support.
Seeing Viola Davis wear our sunglasses at an event as prestigious as Cannes is a moment of immense pride for all of us at Tribal Eyes. It reinforces our belief in what we do – creating quality eyewear that speaks to individuality and style. 
As we look back on this exciting chapter, we want to take a moment to express our gratitude to you, our community. Your support fuels our passion for crafting sunglasses that are more than just accessories; they are an extension of your personality and style.
Finally, we want to express our heartfelt thanks to Viola Davis for bringing our vision to life on the Cannes red carpet. Viola, you truly made our KB Sunglasses shine. And to Elizabeth Stewart, we are deeply grateful for your creative vision and commitment to our tribe.
And to you, our cherished community, we say: Stay tuned. This is just the beginning of our exciting journey together. Keep your eyes on the horizon - who knows where we'll spot Tribal Eyes sunglasses next?
Stay stylish, stay sunny, stay Tribal.